Listen on iTunes, Spotify, Stitcher, or Libsyn
In This Episode
Apple's latest iPhone update, iOS 14.5, is stirring up debate (and panic!) about user privacy and its impact on paid ads. The new update introduces a controversial feature: App Tracking Transparency.
The feature allows users to prohibit apps from tracking their data across apps or websites owned by third-party companies for advertising. Apps are required to prompt users for permission to track their data. Users will also see which apps can track their data and change these permissions at any time.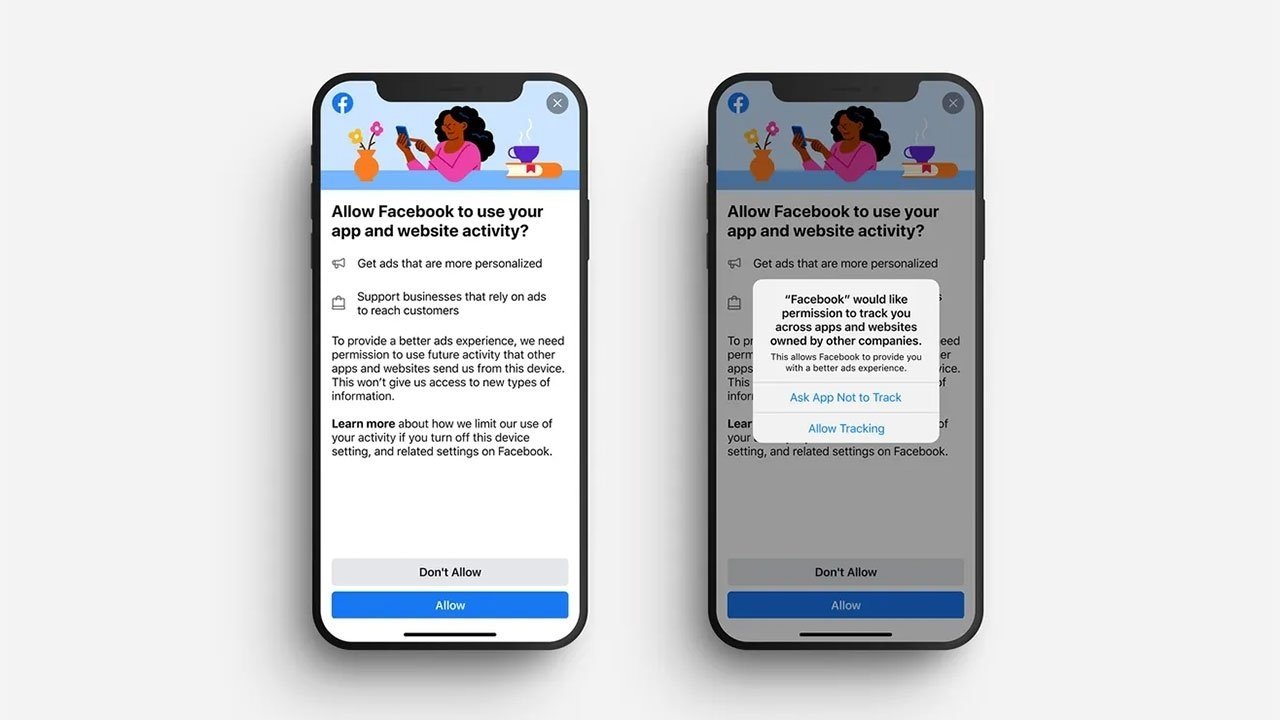 Image via Apple Insider
The update has caused an uproar with another Silicon Valley stalwart: Facebook.
The social network and advertising juggernaut argues that the update will hurt small businesses that depend on Facebook's ability to track people and display ads based on their personal interests and browsing habits. 
While Apple's latest privacy move is significant in that it's the first update of its kind among mobile operating systems, it's part of a greater trend of user privacy. Apps like iMessage and WhatsApp use end-to-end encryption to secure messages; even Google has announced that it plans to "phase out" third-party cookies on Chrome. 
But should advertisers be worried?
In this week's episode, Head Ninja Tim discusses the implications of this privacy update with Ana Galanzovski and Lenka Stefanakova, PPC Team Leaders at Exposure Ninja. Here are some of the salient points discussed.
Impact on Reporting and Ad Optimisation
Apple's latest iOS update will have a major impact on an advertiser's ability to track their ad performance.
"It's going to impact different sides of Facebook's business, mainly for reporting purposes," says Ana. "We won't be able to have as many reporting tools as we did — we won't be able to track all the conversions."
For example, if a user says that they don't want to be tracked by Facebook, advertisers can no longer track that conversion, whether it's a purchase, landing page view, or email submission.
The update will also affect ad optimisation.
"With Facebook, we can create lookalike audiences or run remarketing campaigns," adds Ana. "We are going to see a big decrease in the size of remarketing and lookalike audiences."
Facebook's Response
In recent months, Facebook has taken steps to prepare advertisers for the iOS update, alerting them to verify their domains and select their most important conversion event.
"We will still be able to track some conversion events — it's just going to be a bit harder," explains Ana.
Advertisers also have other tools at their disposal, such as Google Analytics and tracking ads with UTM codes. The Facebook platform might provide less visibility, but Ana recommends compensating by using other Google Analytics metrics on your website to monitor your campaign performance.
The Silver Lining
While the privacy update is a setback for accurate conversion tracking, Lenka notes that advertisers shouldn't panic.
"Conversion tracking, to be honest, has never been 100%," she explains. "As much as the privacy update poses a challenge, I think it's going to make us better marketers."
In other words, the update may just end up forcing marketers to think more like marketers rather than depend on algorithmic targeting.
"It's important to understand what drives people's behaviour, why they're coming to your website, and how they interact with your brand," adds Lenka.
Check Out the Episode to Learn More
Learn more insights and tips on how to prepare your ad campaigns for Apple's latest privacy update by watching or listening to the episode.
Timestamps
00:00 — Introduction
00:50 — iOS 14 Privacy Updates Explained
03:40 — Facebook's Response and Workaround
08:47 — Impact — Performance or Reporting?
09:47 — Tips for Marketers and Advertisers
14:55 — Moving Away from Algorithmic Targeting
16:50 — Conversions API
20:00 — Impact on Exposure Ninja's Client Accounts
30:03 — Impact on the Future of Advertising
Related Links
You May Also Enjoy…